Hand Foot & Mouth Disease in Children Q&A
Hand, foot, and mouth disease is a well-known common contagious virus that often is easily spread from child to child if not taken care of, and managed. If you suspect your child of having hand, foot, and mouth disease, bring them to Evergreen Pediatrics to see a pediatrician for observation, diagnosis, and treatment. Call us today or visit us online to book a same-day appointment. We serve patients from Kirkland, WA and surrounding areas.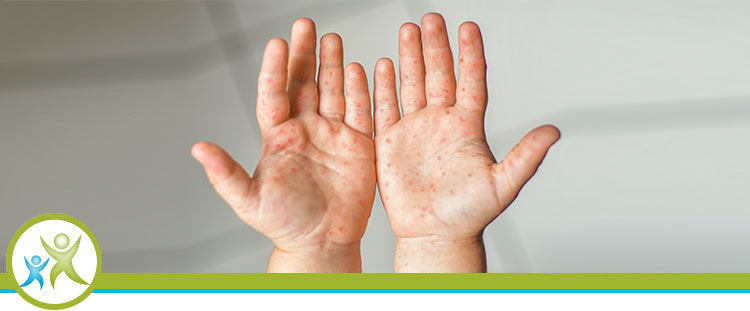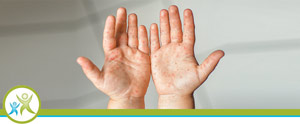 Table of Contents:
How long is a person contagious with hand foot and mouth disease?
Can I catch hand foot and mouth from my child?
What should I do if my child has HFMD?
Hand, Foot, and Mouth Disease is wildly known to be easily spread by children, especially school-aged children as this common illness is also very contagious.
Usually, it can take anywhere from 3 to 6 days for the first signs of hand, foot, and mouth disease to appear. This is what is medically known as the incubation period. Usually, the illness starts off as the common cold, with a fever, sore throat, and runny nose. However, it progresses quite quickly to worse symptoms like a rash with tiny blisters that may show up:
In the mouth
Inner cheeks
Gums
Side of the tongue
Top of the tongue
Fingers
Palms of the hands
Soles of the feet
Buttocks
The symptoms from hand, foot, and mouth disease tend to be the worst for the very first few days but should be completely gone but in some cases, it can take up to a week.
How long is a person contagious with hand foot and mouth disease?

Children and adults alike are most contagious during the first week of their illness. Children with hand, foot, and mouth disease may get rid of the virus from their respiratory tract for on average 1 to 3 weeks and through the stool for weeks, if not months after the infection initially started.

Our pediatricians can tell if your child has the hand, foot, and mouth disease virus by reviewing their symptoms and describing what they are seeing in regards to what is in your child's mouth for sores and a rash.
Can I catch hand foot and mouth from my child?

Yes, you can. The virus is spread usually from person-to-person and it is spread via contact which can be done in many ways:

Respiratory
Can be spread through the respiratory matter by large droplets forming when your child talks, coughs, or even sneezes. These droplets then can land on or be rubbed into the eyes, nose, and mouth. Most of these droplets travel no more than on average 3 feet and then fall to the ground.

Fecal-oral
The sick child generally gets their hands dirty and touches an object, which others can touch. When we touch the same object, the child did who has dirty fingers/hands, the object is contaminated and we can accidentally put it into our eyes, near our mouth, or by rubbing our nose.

We can help prevent the spread of any illness including hand, foot, and mouth disease by:

– Teaching our children to cover their mouths and noses when sneezing or coughing, by having them cover their face with their arm or a tissue, and by changing their contaminated clothing.
– Washing their hands after going to the bathroom, before eating, and after eating or after getting their hands dirty.
– Washing our hands after changing a dirty diaper, so we as parents or caregivers do not spread the virus to other surfaces or by coming in contact with contaminated fluids.
– Clean, rinse and sanitize toys that may have come into contact with your child
– Prevent sharing any food, drinks, utensils, or personal items that your child may have touched
– Protect other children in the same home by monitoring that they do not hug, kiss, or share anything like utensils, cups, food, drinks, etc.
– Disinfect any surfaces your child may frequently come into contact with, this will help prevent others from contracting the virus within the home as well
– Keep your child home from daycare/day home, school, and any activities until they are in the clear and all better
What should I do if my child has HFMD?

It is best to bring your child in to see a pediatrician if they are suspected to have contracted hand, foot, and mouth disease. Even though it is a minor illness that usually only lasts a few days with a fever and relatively mild signs and symptoms, your doctor can offer more insight into the virus, as well offer any advice on how to handle it, and help the child that is sick with hand, foot, and mouth disease. Make sure to keep the child's fluids up, and monitor their fever. If their fever gets too high, bring them into emergency. As well, keep them home from any activities including school or daycare, as you do not want to spread the virus to others. For more information, call us. We serve patients from Kirkland WA, Seattle WA, Shoreline WA, Lake Forest Park WA, Kenmore WA, Woodinville WA, Mountlake Terrace WA, Woodway WA, Edmonds WA, Lynnwood WA, Bothell WA, and Lake Washington WA.